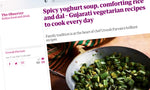 Wow, out of the fire and into the frying pan.
A Happy New Year to all!
There is, as seems to be the way at the moment, 'not-so-good' news that doesn't seem to want to go away as well as some actual good news! 
The bad bit... We are now temporarily not trading at Borough Market or Broadway Market due to the latest Lockdown. This has put a lot of pressure on us to keep afloat, however...

The good bit... Our new online business is slowly growing. Yay!!
Boxes full of Gujarati Rasoi have been dispatched all over the UK. Every now and then in between cooking and  boxing up food I wonder what my grandmother would have thought of her recipes being sent all over the country, its a really lovely thought.

I have also just had some of my grandmothers recipes as taught to me by my mother published in the Observer Food Monthly magazine with an intro written by Nigel Slater!
I am humbled and very flattered!! Thank you to the wonderful team at The Observer and to Kate Whitaker for the fabulous photography.
Here is a link...

-
There are a few new additions to the website which relate to the recipes in the article. Cooking kits for making
Okra
,
Khaddi
,
Kitchdi
 and 
Spinach
.