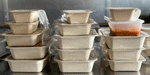 The online offer is a direct response to the Covid situation. Like many other businesses we have been 'pivoting'. We have placed many of our tried and tested dishes on our online menu. We make the dishes fresh to order then ship them to you via courier in a temperature controlled box.
The concept is to package our restaurant and market food ready for you to receive chilled so that you can put it into your fridge. Then to heat at home and enjoy at your convenience.
The menu rotates and is refreshed with the seasons and aligned with Hindu celebrations and religious events. 
All the food is vegetarian and often vegan, this makes it naturally Halal and Kosher. We do not use ghee in the cooking, unless it is a very specific recipe, hence making nearly all the food vegan.
During Lockdown I ordered food parcels from different companies, thinking that this is something that I could do to save my business. 
Here are some images and story reflecting some of the process...
The trays with food in them and sealed
The trays are fully compostable and took some finding, but finding a supplier for a biodegradable film was much harder. They were out there however I'd have to buy a quantity that was too large at this stage. Its was a chink in my fully compostable / biodegradable armour that I was not happy with. I persevered and almost gave up until I finally sourced a compostable cellulose plant based film from a company that would sell it in smaller quantities.
With the trays and films sourced I continued my testing of the insulated courier boxes. This also was a journey, however the company that I found had done a lot of work by having an off the shelf biodegradable, compostable product made from recycled / renewable sources, and they are a carbon neutral company! 
So then I turned to my the website, which took a lot of time. It will always be a project that will be changed and amended due to the nature of my seasonal menu.
Then came the labelling of the trays
With that done it was time to send off the box with some food in it too the couriers testing department
DPD gave the packaging their approval
4 weeks later we have a contract and an account 
Great news, except the scary thing is that we need to make a minimum of 50 orders per week to retain the contract or it is automatically cancelled!
Deep breaths...
We now have a launch date - yey!
The 4th of November, in time for Guy Fawkes fireworks and very importantly Diwali !