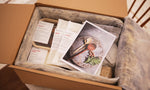 Thank you!
For your amazing enthusiasm and support!
So many of you have been spreading the word via your social media and whatsapp networks and it's working!
You have all been great!
We have used some of your fantasic constructive feedback and made changes to our packaging.
Our boxes are now going out to customers looking better than before and arriving in great condition.


A better week for our delivery boxes, lots of lovely feedback from people enjoying our food all over the country!
How exciting to know that people are eating Gujarati Rasoi from Cumbria to Cornwall.
With the lockdown continuing we are still not at the market, but we are pushing along with our deliveries which are keeping us busy making chutneys and testing new recipes.