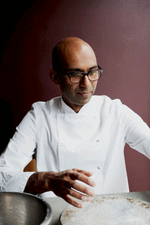 We still live in 'a wonderful world'
Louis Armstrong sang: 
'I see friends shaking hands, say how do you do
They're really saying, I love you'
We have moved into a new era of social distancing and zero contact, the very thing that makes us human, that which we all need to thrive.
The simple embrace or hand shake for now, have been restricted and we must find a way to work with Covid-19 that keeps us all safe. Gujarati Rasoi have introduced new measures to ensure that both you and our staff are safe.
The Covid landscape is subject to daily change.  However there are clear guidelines for hygiene and good practices to minimise risk.

We have implemented a policy for washing hands every 20 minutes in our kitchen.

We have changed our kitchen rota so that we can maximise safe working distances.
Staff are required to wear PPE at all times and have been given training.
The safety of my team and that of the food is paramount.
Stay safe.