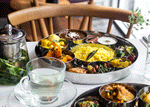 Embracing the new normal
Our previous outlets were and still depend upon footfall, of local customers, office workers for lunch and tourists, needless to say all of those demographics are simply not there or at best 10% of what it was. 

What do we do? 
We do what lots of other people are doing to survive, adapt, remould ourselves and our expectations. 

To reach our customers, the locals residents and people who previously worked in offices and are now working from home, we have taken our food from our Restaurant as well as our Market menus and placed it on our new website. 
Our new model is to make our food to order, super fresh, in small batches, allowing us to focus our attention on each dish and minimise any waste, for example, by using up the tender green leaves of cauliflowers and making Mhootia (a type of dumpling) and making them into a new dish as one of our specials.

We have new packaging, continuing our commitment to packaging that is compostable or biodegradable, whilst containing the food safely whilst it is on its way too you.
I look to the future with optimism and hope that the new normal will be one in which we can all live safely and continue to follow our dreams.
I hope you enjoy my families recipes as much as I enjoy recreating them.