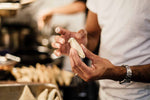 The kitchen has always been a sacred place for me for as long as I can remember, its where the Gujarati Rasoi story began.
My knowledge and love for traditional Gujarati food comes from my mother and grandmother. Whilst they cooked together I would learn the stories behind each of the precious recipes that they had carried with them across continents and generations. They would recite which part of their lives influenced certain dishes, which ancestors may have dared to corrupt recipes with the wrong spices, and how each dish related to our home of Surat in Gujarat. The kitchen to me is love, warmth and maternal. I loved being there. It was during those times as a child I learnt about the cornerstones of Gujarati food. I would be asked 'chakwu che?' do you want to taste?, 'its tasty or nice' was as an answer met with disappointment. 'what does it need?' chilli, salt, garam masala, is it cooked? I was taught how the flavours should be balanced; spicy, salty, sour, bitter and sweet. I realised that what they were doing was cooking delicious food, yes, but more than that it was a considered delicate craft, one that required a subtle hand and refined pallet.
I was born in the U.K back in the 70's, the first of my generation. My great grandfathers generation were still alive in the 'old country'. Back then the human connection and cultural bridges were very deep. Correspondences were kept alive through airmail and by letters passed on by hand to anyone who was making the 'epic' journey back and of course by shouting down the phone line, after all, it is a very long way away! ;-D. In those days it was a huge family event if someone was going back to India, they would save to go for years, pack for months in advance and travel wearing a three piece suit and tie. We were all taken to the airport as though we were never to see that person again… Going to collect them was also en masse, this was much more fun, there was the excitement of receiving back grand mother and grandfather (Baa and Bapa) as well as the presents! Back at home when the suitcases were finally opened the unmistakeable scent of millions of incense sticks that perfume an entire country gently poured into the living room. My grandfather shared his news and spoke of his trip transporting me to the mythical motherland. Carefully my grandfather would peel away the clothes and reveal the Indian newsprint that wrapped the brightly coloured paper kites that I loved, he never failed me. A box of Halva would come out and the stories continued, I sat cross legged on the floor examining my kites and eating the delicious thin layers of sugar encrusted with pistachio, rose and saffron.
We all spoke Gujarati at home and gathered together to enjoy food and cultural events. It was a really fun time, always lots of children to play with and always great food.
Food for us was a bridge, It allowed the two generations above me to travel back on a sensual nostalgic journey back to the mother land, back to rural Gujarat, back to the cradle that nurtured them. It is this nostalgia envoked by the food that has kept the recipes intact, if they differ too much then they do not taste of home anymore, it's what I call 'time capsule food', from before the Industrial revolution and mechanisation. The cuisine I learnt to cook at home is as old as the hills, unchanged recipes handed down to my great grandmother by her mother and eventually… down the line to me. Recipes, methods and techniques. The culture of eating and cooking seasonally, reducing waste, buying locally have been kept alive and intact by my family across three continents and generations.
I wanted to share my love for the food I grew up with. It's now more than a decade since I invited friends to a meal that my mother and I cooked, this led on to us setting up a stall a few months later on Broadway Market.
Much has changed since then; we're at Borough Market six days a week. We opened a successful restaurant in Dalston where we showcased food from our home table. We have since moved on from that project. What remains the same is our unwavering intention; to share our own home cooked food with people who want to experience traditional, honest and nostalgic Indian cuisine.